Pregnancy : Boost your self-esteem
Pregnancy is an incredible moment in a woman's life, and every pregnant woman has the right to feel beautiful at this stage. Some pregnancy problems, such as fluid retention, skin blemishes and the appearance of stretch marks can make the mirror not very friendly. That's why we've made a list of ten beauty tips in pregnancy to give you a boost in your self-esteem and make you feel nothing less than what you are: a queen.
Shoo stretch marks!
Terror of any woman, stretch marks can appear as the tummy grows, due to the stretching of the skin. Of course the genetic tendency influences a lot, but to avoid the damaged, hydration! Keep the belly area and hips always well hydrated and do not give up a good after-bath oil.
It is not necessary to spend rivers of money for that: there are specific products for pregnant women on the market, but that good old almond oil from the pharmacy also solves. Always remember to consult your doctor before using any product while you are pregnant.
Use sunscreen
During pregnancy, the production of melanin is stimulated, which can cause the appearance of dark spots on the face, especially on the skin. To prevent it, invest in a good sunscreen, with factor 30 or higher and do not leave home without it. If they still appear, the tendency is to disappear up to four months after birth. If this does not happen, your doctor may prescribe an appropriate product to lighten them.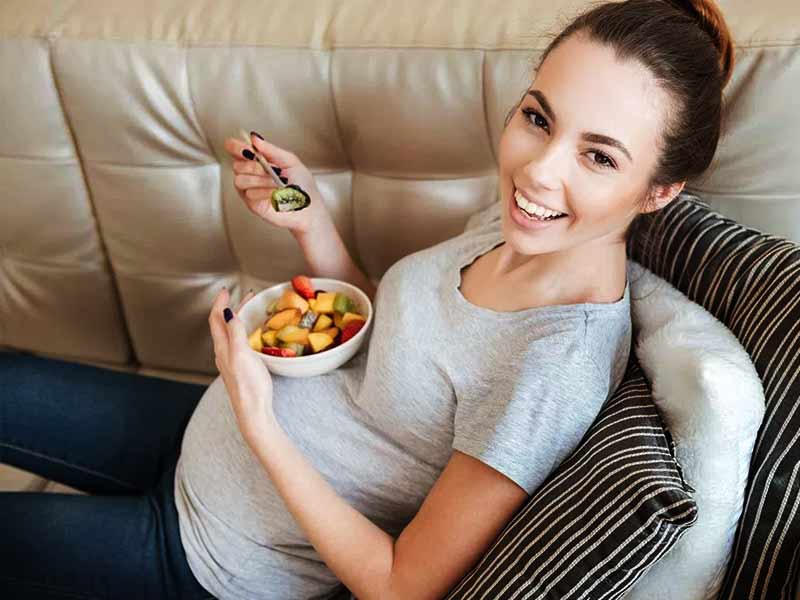 Pregnant, exercise yourself!
Physical exercise in pregnancy only brings benefits. Besides acting to control weight gain – the normal is 9 to 12 kilos during the whole gestation – exercises done in a constant way act to combat the retention of liquids, cellulites and varices. They also regulate the mood and help the pregnant woman to go through the hormonal roller coaster that is the pregnancy. Talk to your doctor so that together they can choose the best exercise for you. The most indicated are directed yoga, hiking, aqua aerobics, stretching and swimming.
Feed yourself with quality
Toned skin and beautiful hair are results of good nutrition. Being pregnant, your mineral and vitamin needs increase considerably. Therefore, check with your doctor the need for supplementation, and invest in colorful and varied meals, with vegetables, fruits and fresh meat.
Well cared and risk-free hair
If you dye your hair, you should forget about dyes during pregnancy. Unfortunately, most of them contain elements that can harm the baby. Some doctors release the dye after the 20th week as long as there is no lead or ammonia in the composition. There are temporary touch-up sticks that come out in the bath, and they disguise the whites while you cannot dye.
Beautiful and well cared nails
The nail polishes are released for the pregnant woman. The only rule is to change the acetone for hypoallergenic remover and avoid removing the cuticles. At this stage, it is normal for your immunity to be low, and without the protection of the cuticles your nail is more exposed to the risk of infection by fungi and bacteria. To protect yourself, keep your hands always dry, and wear gloves for home service.
Special attention to breasts
To avoid stretch marks, which are also common in this area, hydrate your breasts a lot, remembering never to pass anything in the halo and beaks. Intense hydration in this area can fine tune the beak of your breast, damaging breastfeeding. Another tip is to invest in good support bras. The ideal is to wear a support bra during day and night, thus preventing pain and flaccidity. Choose a comfortable bra, preferably cotton fabric.
Beautiful legs throughout pregnancy
Besides a good hydration, avoid sitting too long or in the same position, preventing swelling. Make daily rest with your legs elevated and try to gain only the weight that the gynecologist indicated to avoid varicose veins. Applications of creams and oils in upward movements before sleeping activate the circulation and relieve tension.
Face
Anti-aging creams should be left aside while you are pregnant, as many contain components harmful to the formation of the baby, such as retinoic acid. At this stage, the tip is to make a good home exfoliation (with sugar and honey) once a week and invest in hydration and sunscreen.
Take care of your emotional!
Have time for yourself and invest it in what you like to do: go to the movies, go out with your friends, read a good book, walk in the open air. Anything that gives you pleasure and relieves the normal tensions of pregnancy, for sure will do a lot of good for your body and soul!